Hermosillo, Sonora.- Sonora is the third state with the third-highest number of reports of the disappearance of people nationwide, in addition, Puerto Peñasco is ranked as the eighth municipality in the country with the most clandestine graves and also in the ninth position for the number of bodies exhumed from these.
The Ministry of the Interior confirmed this morning at the presidential conference that, only for the period that includes from December 1, 2018, to yesterday, November 24, 2020, there are 1,222 people who have disappeared in the state.
Alejandro Encinas, Undersecretary of Human Rights, Population and Migration of Segob, reported that Sonora ranks only after Jalisco and Guanajuato in terms of the disappearance of people during the administration of President Andrés Manuel López Obrador.
"Most of the complaints about disappearance are concentrated in five states, particularly Jalisco, which has more than 23% of the complaints of forced disappearance in the country and Guanajuato, which, having had a marginal situation in the last years, today it ranks second, "said the undersecretary.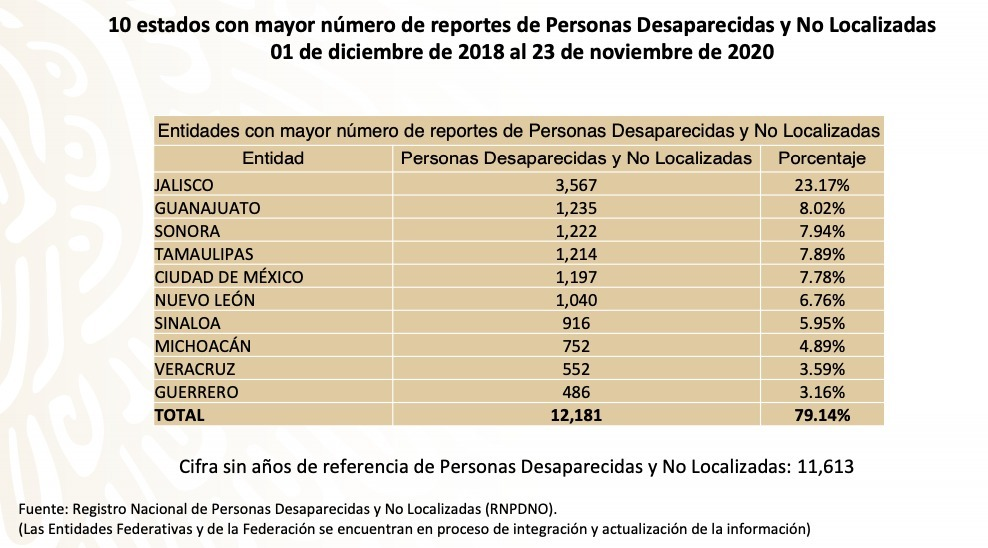 To date, 77,945 people remain missing in Mexico.
Puerto Peñasco, until today, is the eighth municipality in the country with the highest number of graves and the ninth in bodies exhumed from these only because of the particular discovery of a clandestine burial site: La Ostionera.
In that place, the discovery of 35 graves that represent 2.5% of the 751 clandestine burial sites in the country was officially recorded. La Ostionera, as a private site, is now the fifth with the highest number of graves nationwide, after other sites such as El Mirador, in Tlajomulco de Zúñiga, Jalisco; the Fraccionamiento Sabinos, in El Salto, Jalisco; and in the Barrio de San Juan, in Salvatierra, Guanajuato.
From that same place, 52 bodies were exhumed, representing 2.27% of the 2,290 that have been recovered nationwide in the last two years.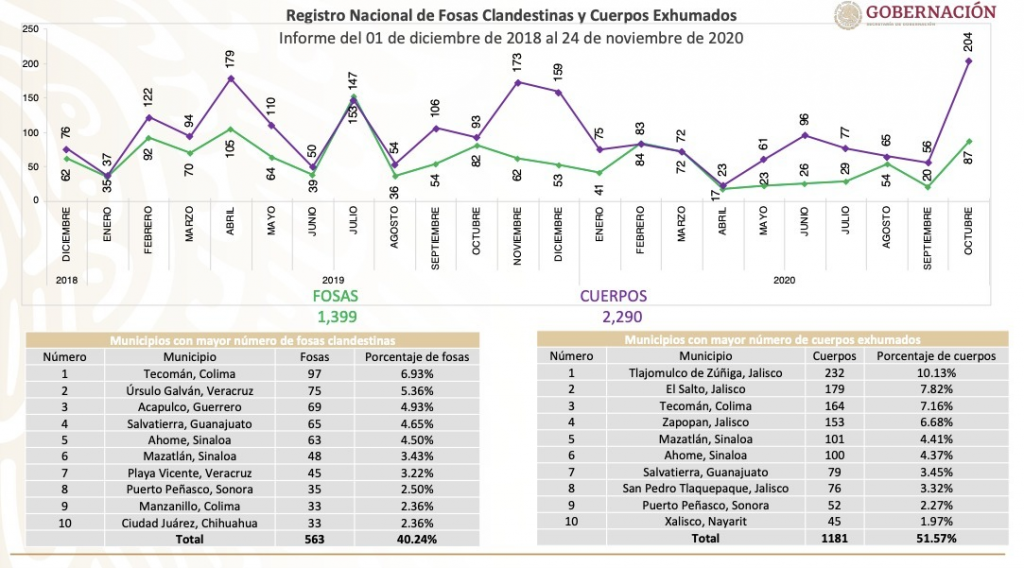 Source: proyectopuente.com.mx