Sheree, with more than seven years of living in this community and more than 55 years in Mexico, gladly serves her compatriots
From investments to community work, it is part of the activities carried out by residents of American origin settled in the Ribera del Lago de Chapala and especially in the Ajijic area, where Sheree, living in this community and has been helping fellow expats.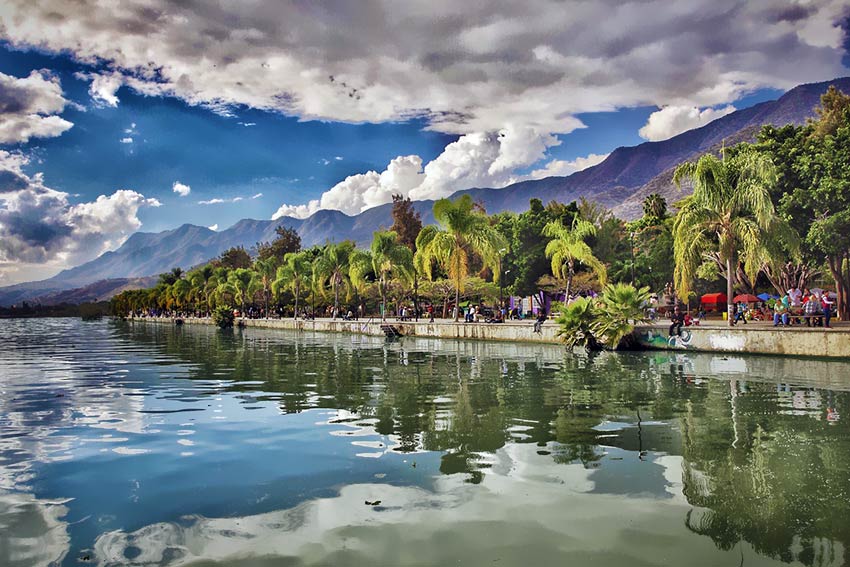 Now this community is in the process of electing the president of their country and from a space adjacent to this library every Tuesday they come to cast their vote in accordance with the laws and rules established in their electoral legislation, but they also carry out other socio-cultural activities for the benefit of the population of the area.
In love with the culture and climate of Guadalajara, now she is a volunteer at the library of the American Residents Association in Ajijic, that is, "I receive books, I dispatch books, we take care of the collection, which is more than 26 thousand books in English because it is not yet available. migrates to the collection in Spanish. We make people happy because they love to read. "
With a huge smile that illuminates her clear face, blue eyes that stand out, her silver hair for being an elderly woman, and withdrawn from her passion as an educator, with fluent Spanish, she talks about how she stayed in Mexico and later he migrated to Ajijic.
"I have almost eight years in Ajijic, but I have been in Mexico 55 years -she smiles after saying it- and since my husband showed me Ajijic before we got married, I was fascinated by the Guadalajara and Chapala area, it was beautiful, I was fascinated by the towns, they are small-town I'm not from a big city and at that time we lived near Mexico City and when we had the opportunity we migrated to Guadalajara, "he said.
For more than 30 years they worked in Jalisco and at retirement, we came here," it was that simple and pleasantly again she lets out a laugh that infectious, especially the enthusiasm with which she talks about what today in day is her home and where she does various activities that seek the well-being of the community.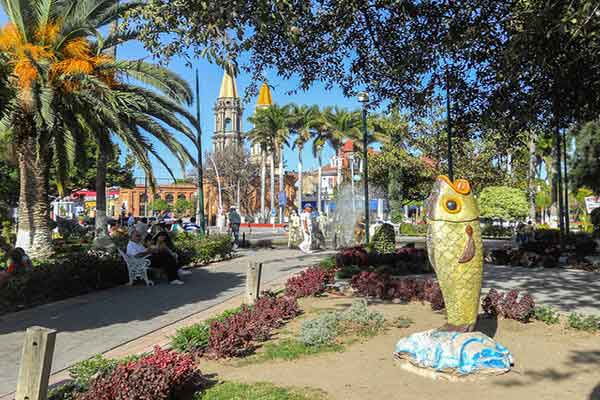 She would also like to "promote the town because it is a beautiful town, I am fascinated by Mexican people, I married a Mexican, I have lived here many years and I have seen that the people of the United States and Canada recognize the beauty of Mexican culture. , all that is beautiful, they do not believe in the lies that are told "through various channels.
In her community work, she said that "once you retire you look for something to do, you work many years in your career and you always say if you could have done something else, then I'm doing that other thing because maybe I would have studied to be a librarian But I was an educator but now it is my dream that I am a volunteer in a library and helping people "in whatever way I can.
She said that many young people ask their children who live in the United States but were born in Mexico for references from Ajijic, "but we have received people here who are fleeing the situation there, they tell us what it is like to live there now in these situations" but she tells them about how well people live here in Ajijic.
This library entirely in English is considered by the United States as the largest in Mexico, it has 26 thousand different volumes and is constantly updated with the donations made by foreign residents in this community.
Diana Ayala, director of the Association of American Residents in Ajijic, pointed out that with the Covid-19 issue, the book loan processes changed and now everything is done online, that is, "residents make their list, send an email, their package is prepared for them, they come to pick it up and to deliver the books they leave them in a box which is sealed for a few days and then opened to accommodate or lend the books.
The LCS English Language Library
The LCS English Language Library started out as a one-bookcase book exchange program in 1955. It is now a full-fledged library comprising over 26,000 volumes with an impressive collection of both fiction, non-fiction, and reference books. It is also considered the largest English language library in Latin America. 
The Lake Chapala Society has long been a place for newcomers to meet other foreigners and start to get integrated with the local community.
Founded by a group of foreign residents as "The Chapala Society" in 1955, its first two committees were called Mosquito Control and Information Service. Today, LCS (as its commonly abbreviated) is a non-profit organization with a large number of activities, classes and outreach programs in the local community.
Since 1983, LCS has been located on Neil James' former property, which she donated to the society 1990, four years before her death.
ALMOST 60 CLASSES, GROUPS & ACTIVITIES
Most activities at The Lake Chapala Society are limited to members, but the lush garden grounds are open to anyone to wander around or you can eat at the on-site restaurant, Café Corazón.
Every week on the LCS schedule you can find classes for exercise, dance, tai chi, yoga, meditation, art, and photography; board game groups, discussion hours, lectures, and more.
There are almost 60 activities in all. About 35 are exclusively for members. Activities which are open to the public are mostly related to health services and immigration.
Access to all of these activities is included in your annual membership.
ADDITIONAL BENEFITS OF MEMBERSHIP
Lake Chapala Society members can enroll in additional members-only classes, such as Prueba México, for reasonable costs. This series of classes teaches foreigners about Mexico's cultural side, from good manners to good food.
Members get access (with a $500 peso refundable deposit) to a library with 26,000 books and a DVD/VHS library with 4,000 titles. You can imagine how valuable this part of the LCS membership used to be before the internet arrived.
LCS members can join the Spanish class for $220 pesos a month. The classes have less than 13 people and are designed for complete beginners using the Warren Hardy method.
The Lake Chapala Society regularly arranges private bus tours to Tlaquepaque, Guadalajara and other local destinations such as Tequila. These usually cost somewhere between $400 and $1,000 pesos. Non-members can go on these trips, but it costs about $100 pesos more.
To save you a trip to Guadalajara, the US and British consulates come once a month to take care of immigration matters such as renewing your passport.
The British Consulate comes to LCS on the last Saturday of the month. The U.S. Consulate arrives on the second Wednesday of every month at 10:30 a.m. and stays until everyone is processed. Sign up between 10-11:30 a.m. on the day of the visit. You can apply to renew your passport and pick it up from LCS, avoiding two trips to the Consulate in Guadalajara.
Non-members are welcome to use the consulate services.
COST OF MEMBERSHIP AT THE LAKE CHAPALA SOCIETY
The cost of an annual membership in 2019 is $730 pesos per individual. For persons aged 79 or older, the cost is $575. For brand new members, there is a $100 peso administration fee. (There's no fee for renewals.)
Your membership fees give you access to all of the activities at the Lake Chapala Society. There are some additional activities, classes and trips which cost extra and is noted on the activity schedule. Some of these extra activities are exclusive to members or members receive a discount. Membership fees go to maintaining the programs at LCS and contributing to the local community through the organization's outreach programs.
SO SHOULD YOU BECOME A MEMBER OF THE LAKE CHAPALA SOCIETY?
Ajijic is no longer the one-stoplight town that it was just two decades ago. And the Lake Chapala Society, thanks in part to the internet, is not quite the vital institution that it once was for new residents at Lake Chapala. Today, there are dozens of places that you can meet new people (Mexicans and fellow foreigners), both offline and online. And most of the types of classes and activities that LCS offers, such as exercise, yoga, and Spanish classes, can now be found elsewhere. Foreigners living at Lake Chapala aren't cut off from the rest of the world as they used to be.
The Lake Chapala Society might be a great fit for you if you've just moved to Lake Chapala and don't have much experience outside of your home country or you want to meet other foreigners. It's a great deal in terms of the number of activities, groups, classes and events you get access to. $730 pesos a year is a bargain for 35 activities to choose from, even if you only occasionally stop by LCS.
The Lake Chapala Society's community outreach programs have helped thousands of people over the years and membership fees help sponsor these programs. Check out these volunteer opportunities if you're looking for a way to make a difference in your community.
General information:
Available to LCS members
Library titles are accessible via an electronic database
Primarily supported through donations. To donate, please speak with a librarian or e-mail: [email protected]
After-hours book drop Renew books on-line or via e-mail Items available to borrow or read on site include:
An extensive biography section
A Mexico collection
Books written by local authors
A selection of diverse magazines
Over 300 large print books, including The Reader's Digest
Jigsaw puzzles
Loan Period / Fines & Fees
There is a two-week loan period for books.
The fine for an overdue book is two pesos per day
The fee for replacing a lost or damaged hard cover book is 350 pesos. The fee for replacing a trade paperback is 250 pesos. The fee for replacing a standard paperback is 150 pesos.
Office & Library Hours: 
Mon – Sat 10 – 1:30 p.m.
Grounds open:
Lakeside Gate 8:30 – 1:30, Mon – Fri
Front Gate 9:00 – 2:50, Mon – Fri
Front Gate 9:00 – 1:50, Sat
Source: eloccidental.com.mx, lakesideguide.mx